RAZER sluchátka Kraken pro konzole, modro-černé, 3.5 mm jack, herní
Přidat do oblíbených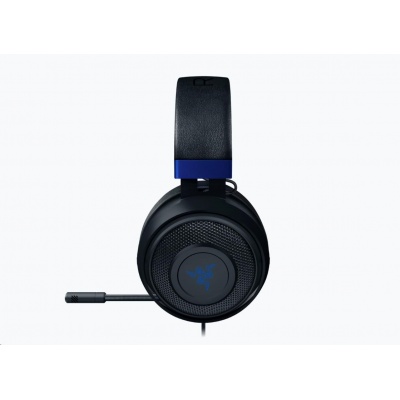 Popis
Parametry
Hlídací pes
RAZER KRAKEN FOR CONSOLE

We've taken our most iconic gaming headset and created an edition that's geared towards console gaming—meet the Razer Kraken for Console. Whether you're competing in an intense tournament or lounging at home, this is a headset dedicated to superior sound quality and long-lasting comfort so you can play at your best all day.

Enjoy superior sound clarity and deep, punchy bass for a wide soundscape. From subtle footsteps sneaking up behind you to climatic explosions that blow you away, every sound detail is heard when you're gaming with the Razer Kraken for Console.
We've improved the headband padding and made it even thicker so it relieves more pressure on your head for long-lasting comfort. The Bauxite aluminum frame of the Razer Kraken for Console makes it lightweight, flexible, and extremely durable.
In order to take comfort to the next level, we've added cooling gel-infused ear cushions to reduce heat build-up. The soft cloth and leatherette combination provides a plush feel and sound isolation that lets you enjoy long gaming marathons.
The Razer Kraken for Console's microphone utilizes a cardioid pickup pattern so that your voice is captured with clarity without any unnecessary background noise. It rejects noise from beside and behind the mic, so your teammates will always hear you loud and clear.
AT A GLANCE


Custom-Tuned 50 mm Drivers


Cooling-Gel Infused Oval Ear Cushions


Retractable Unidirectional Microphone


Hidden Indented Eyewear Channels


Bauxite Aluminum Frame with Thicker Padding


Compatible with all consoles


HEADPHONES


Frequency response: 12 Hz – 28 kHz


Impedance: 32 ? @ 1 kHz


Sensitivity (@1 kHz): 109 dB


Input power: 30 mW (Max)


Drivers: 50 mm, with Neodymium magnets


Inner ear cup diameter: 54 mm x 65 mm


Connection type: Analog 3.5 mm


Cable length: 1.3 m / 4.27 ft.


Approx. weight: 322 g / 0.71 lbs


Oval ear cushions: Designed for full-ear coverage with cooling gel, perfect for long-wearing comfort


MICROPHONE


Frequency response: 100 Hz – 10 kHz


Signal-to-noise ratio: > 60 dB


Sensitivity (@1 kHz): -45 ± 3 dB


Pick-up pattern: Unidirectional ECM boom


IN-LINE CONTROL


Analog volume control wheel


Microphone quick mute toggle


AUDIO USAGE


Audio Usage: Devices with 3.5 mm audio jack


Audio + microphone usage: Devices with 3.5 mm audio + mic combined jack


Audio / mic splitter adapter cable usage: Devices with separate 3.5 mm audio and microphone jacks


More info: https://www.razer.com/gaming-audio/razer-kraken-for-console
.
Rozhraní sluchátek:
3.5 jack
Vlastnosti sluchátek:
Ovládání hlasitosti
Aktuální cena produktu je
2257
Kč  s dph